Keeping your little one in clothing can be a major production. Between growth spurts and wear and tear, sometimes it seems like an outfit hardly gets worn before it's relegated to the scrap bin. Fortunately, any parent can take some simple measures to make any piece of children's clothing last a wee bit longer.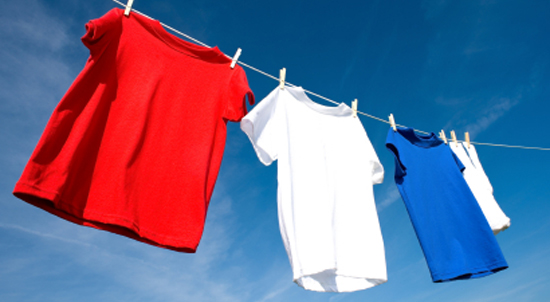 1. Wash Them Right.
Laundry habits can really make or break a piece of clothing. Consider using the gentle cycle and washing in lukewarm water to make clothes last longer. Using the gentle cycle means an easier ride through the machine while lukewarm water is less destructive to fabric fibers and keeps colors looking new longer. Also, take a look at the label on your laundry detergent. You may want to go with a detergent that has natural ingredients and no harsh chemicals. These detergents are easier on clothes, better for the environment and safer for your child.
2. Use Care When Drying.
Whenever possible, line dry your child's clothing or use the delicate cycle on your dryer. The job might take longer with these methods, but that clothing will definitely last longer when it's not subjected to higher temperatures. Plus, line drying can make clothing smell wonderful without introducing chemicals. That's a definite plus for you and your little one.
3. Pre-treat for Stains.
You may have noticed that stains seem to come out of new clothes more easily. That's because the fabric is often treated with a stain repellant before the article of clothing hits store shelves. Repeated wearing and washing eventually removes this repellant from the fabric. By regularly treating clothing with a stain repellant at home, you'll be lessening the likelihood of your child's clothing having permanent stains. Try it on boxers for boys when potty training!
4. Carry a Stain Treating Pen.
Kids are prone to spills that can leave even the newest clothing looking like it's used up, but if you make it a habit to carry around a stain treatment pen in your purse, you won't have to wait for hours before working at stain removal. Immediate treatment means you have a much better chance of saving that piece of clothing.
5. Add Reinforcement.
On almost any piece of clothing, certain parts are destined to wear out before others. Worn out knees and elbows can make even a relatively new piece look like its useful days are over, so consider adding reinforcing fabric to these areas. Look for iron on patches at the fabric store, then apply them to the inside of the clothing. The patches won't be visible to others and the thicker ply at the knees and elbows will make an outfit last longer.
6. Get Crafty.
If you love using your sewing machine and have a flair for mixing and matching, this can be a really fun way to add longevity to any piece of your child's clothing. This tip has endless possibilities. You might simply cut off some of the length on jeans to make shorts or you could combine two skirts that are too short into one that's just the right length. Adding eyelet lace to the cuff of too short jeans or pants is a snap. Revitalize a cute top by sewing a portion of another piece of clothing to the bottom seam. You are only as limited as your imagination.
7. Invest in Quality.
Good materials and solid craftsmanship, like those found here http://www.amazon.com/Lucky-Me-Girls-Capri-Legging/dp/B00DNT63PQ, make a better piece of clothing that can stand up a lot more successfully to the abuse kids are capable of heaping on clothing. Make note of which brands and stores sell clothing with durable fabrics and skilled workmanship that help the items stand the test of time. They may cost more initially, but they will certainly last longer than poorly designed clothing.
8. Have a Clothes Swap.
Get together with some friends who have kids and have a fun-filled clothing swap. Good quality clothes that have been outgrown by the child of a friend may make the perfect new outfit for your tyke. You'll not only be giving a second life to the clothes on which you've spent your hard earned money, but you'll also be making a budget friendly choice that extends the life of the clothes your friends buy.